"[Clean Cooking] Impacts multiple Sustainable Development Goals and must play a central role in our work to ensure the realization of human needs and fundamental rights."
Antonio Guterres, Secretary-General-Designate of the United Nations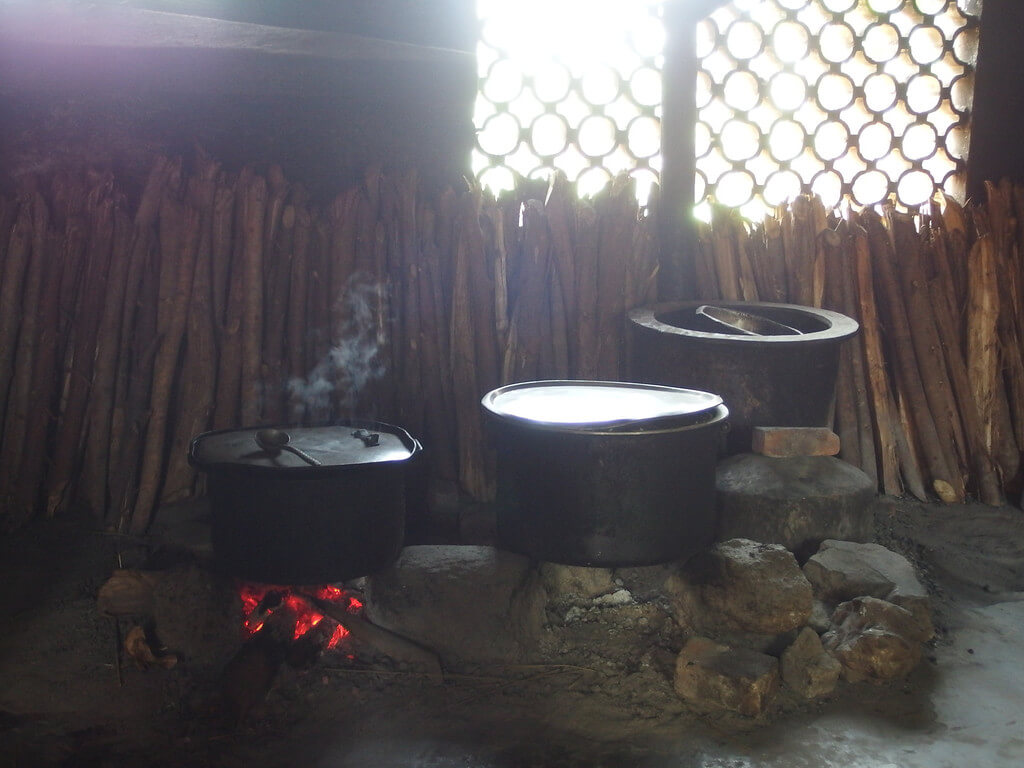 Poverty

Inefficient cooking exacerbates poverty in Uganda since households can spend up to 15% of household income on fuel or up to 7 hours a day on collecting fuel wood – time and money that could be better spent elsewhere.

Environment

Charcoal production and fuel wood collection is leading to the depletion of Uganda's forests, threatening its rich biodiversity. Inefficient cooking also causes black carbon emissions - 100 more potent than CO2 – which is contributing to climate change.

Health

Over 90% in Ugandans cook using wood or charcoal on open fires or on inefficient stoves. This inefficient cooking leads to dangerous smoke, indoors and outdoors, which poses serious health risks. The World Health Organization estimates that indoor air pollution causes more than 4 million deaths annually – more deaths than malaria.
SOLUTIONS
Our solution to some of these challenges is to make improved cookstoves affordable and accessible to Uganda's population. These locally produced improved cook stoves use up to 50% less charcoal, cook food faster and can save households over $100 per year – which is a lot in Uganda! This is thanks to the stove's design, which includes a thick ceramic liner that locks in heat and achieves the same temperatures using far less fuel. They are sturdy and heavy, much safer for children and produce less smoke inside the home than traditional wood stoves would. By using less charcoal for cooking, these stoves put less strain on the environment with less trees needing to be cut down and less greenhouse gas emissions.

These improved stoves produce less greenhouse gas emissions than traditional cooking methods. These greenhouse gas (CO2) savings are carefully monitored across the project generating premium carbon credits certified under the Gold StandardTM.TM.

PROJECT ACTIVITIES
Impact Carbon aims to kickstart a viable marketplace for more locally-produced improved cookstoves in Uganda. We support local manufactures of improved cookstoves to make better and more cost-effective stoves and scale their businesses. We've also helped our manufacturing partners market their stoves by building retail relationships across Uganda as well as with large scale demand generation activities such as national television and radio commercials. These activities reduce the cost of the stoves to end-consumers and make them more widely affordable and accessible.
Our activities are 100% paid for by the sale of carbons credits generated by these stoves.
IMPACTS TO DATE
650+ THOUSAND

STOVES SOLD

The revenue from carbon credit sales has allowed our manufacturing partners to produce and sell over 650,000 stoves since the project started 10 years ago. This is the largest project of it's kind in East Africa and the world's first cook stove project to achieve Gold Standard certification.

3.2+ MILLION

PEOPLE BENEFITING

Since there are 5 people in the average Ugandan household, over 3.2+ million people are benefiting directly and indirectly with household fuel cost savings and faster cooking times.

$370+ MILLION

DOLLARS SAVED

Collectively, Ugandans have saved over $370+ million USD on fuel costs since the project's start. This extra income has allowed households to spend on food, clothing, school fees, medical expenses and starting small businesses.

8.1 MILLION

tCO2 AVOIDED

To date, over 8.1 million tons CO2 avoided.

21.7 MILLION

TREES SAVED

These stoves have avoided the use of over 600,000 tons of charcoal. When you convert that into trees, we conservatively estimate this equates to over 21.7 million trees.
SEE MORE
Every month we profile stove end-users, entrepreneurs and many more who benefit from this project daily. Click SEE MORE to browse the IMPACT photo blog.
Get in touch
Carbon Sales
Call: +1 (415) 968-9087
Email: info@impactcarbon.org
---
Impact Carbon Head Office
582 Market Street, Suite 1204, San Francisco, CA, 94104
Call: +1 (415) 968-9087 Email: info@impactcarbon.org
---
Impact Carbon Uganda Office
Plot 3848 Rwakiseta Road P.O. Box 24480. Muyenga, Kampala, Uganda
Email: info@impactcarbon.org
Make an
Impact Today
You can make a positive impact on climate change and poverty by offsetting your carbon footprint with Gold StandardTM Premium Carbon Credits from our projects.
Buy carbon credits
Enquire about purchasing Gold StandardTM
Premium Carbon Credits from our projects
Carbon Sales
Call: +1 (415) 968-9087
Email: info@impactcarbon.org